Straight submerged arc welded steel tube
Our company has introduced advanced German technology into the production line of submerged arc welding pipe, and made the American Lincoln welder, which is the welding equipment manufacturer.
Product performance index:
1, specifications range: Ф 400 ~ Ф 1626 mm;
2. Wall thickness range: 6 ~ 50mm;
3. Steel grade: Q235, Q345, API SPEC 5L A, B, X42 ~ X80
4. Length of single steel pipe: 6.5 ~ 12.6m.
GB/T3091, GB/T9711, API SPEC 5L, ISO3183, ASTM A671, ASTM A672, ASTM A252, ASTM A500, dnv-os-f101, EN 10217, EN 10219 and other domestic and foreign standards for similar products. The technology is at a high level in the domestic and foreign pipe industry, with the production of high pressure, high steel grade oil and natural gas high-pressure pipeline and low temperature chemical pipeline capacity.
The pre-bending of the plate edge of this production line adopts the pressure stepping type, which can obtain the ideal shape of the plate edge and effectively prevent the "pout" around the weld. Prewelding adopts high-power gas shielded welding with automatic tracking, which can realize full-length prewelding of continuous welding seam and create welding conditions for subsequent fine welding. The internal and external welding seam adopts 4-wire and 5-wire submerged arc welding. Through the control of multi-wire parameters, it can meet the welding requirements of large wall thickness, high tolerance and low temperature steel pipe. The forming process adopts bending digital control and hydraulic servo control, beam synchronous measurement and control, dynamic compensation of lower beam, feed mechanism control and other advanced control technologies. The control precision and production efficiency of the expanding equipment are greatly improved by adopting modern control technology such as automatic tracking and automatic detection. After expanding the diameter, the geometric dimension accuracy of the steel tube is ensured, and the residual stress of forming and welding is eliminated. Effectively ensure the quality of steel pipe weld.
The production line has been built up to now, according to the requirements of API 5L, GB/T9711, ISO3183 and other domestic and foreign standards for the United States, Chile, venezuela national oil and natural gas company, sichuan gas east, petrochina sino-kazakhstan natural gas pipeline and sino-ukrainian natural gas pipeline and many domestic and foreign customers to provide excellent steel pipe.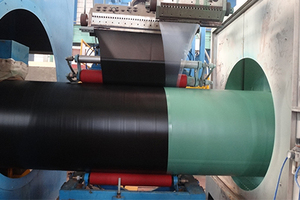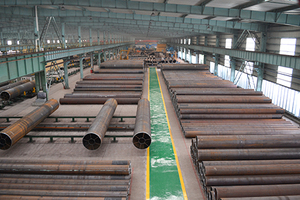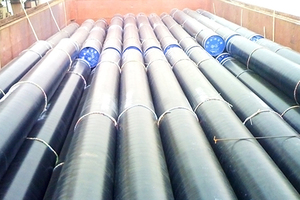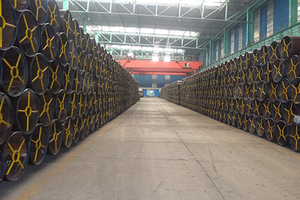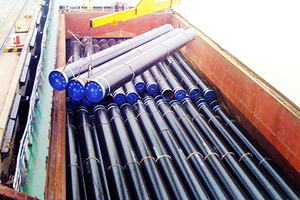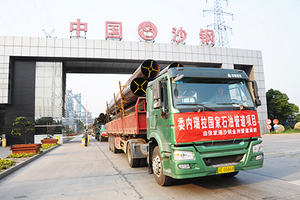 General catalogue
No.

Product name

size range(mm)

length range(mm)

Steel grade/material

Execution standard

Output (pieces/hour)

packaging

1

Direct seam submerged arc-welded steel tubes for transportation of petroleum and natural gas

Φ508×9.5~18

6500~12500

B、X42、X46、X52、X56、X60、X65、X70、X80

GB/T9711-2017

API 5L (46版)

ISO 3183-2018


3.5

Steel groove protective sleeve is added at both ends, and the tube body is wound with protective rope

2

Φ660×9.5~15

4

3

Φ660×16~22

4.5

4

Φ660×23~30

4

5

Φ762×9.5~15

3.5

6

Φ762×16~28

4.5

7

Φ762×29~35

3.5

8

Φ813×9.5~15

3.5

9

Φ813×16~28

4.5

10

Φ813×29~40

3.5

11

Φ1016×9.5~15

3.5

12

Φ1016×16~28

4.5

13

Φ1016×29~40

3.5

14

Φ1219×9.5~15

3.5

15

Φ1219×16~28

4.5

16

Φ1219×29~40

3.5

17

Φ1422×9.5~15

3.5

18

Φ1422×16~28

4.5

19

Φ1422×29~40

3.5
20

Straight submerged arc-welded steel tubes for low pressure fluid transportation

Φ508×9.5~18

6500~12500

Q235-Q690series

GB/T3091-2015

3.5

Steel groove protection covers are applied at both ends

21

Φ660×9.5~15

3.5

22

Φ660×16~22

4.5

23

Φ660×23~30

4

24

Φ762×9.5~15

3.5

25

Φ762×16~28

4.5

26

Φ762×29~35

4

27

Φ813×9.5~15

3.5

28

Φ813×16~28

4.5

29

Φ813×29~40

4

30

Φ1016×9.5~15

3.5

31

Φ1016×16~28

4.5

32

Φ1016×29~50

4

33

Φ1219×9.5~15

3.5

34

Φ1219×16~28

4.5

35

Φ1219×29~50

4

36

Φ1422×9.5~15

3.5

37

Φ1422×16~28

4.5

38

Φ1422×29~50

4
39

High voltage resistance welded steel pipe for medium temperature environment

Φ508×9.5~18

6500~12500

A(45、50、55)

B(55、60、65、70)

C(55、60、65、70)

E(55、60)

ASTM A672-2014

3.5

Steel groove protection covers are applied at both ends

40

Φ660×9.5~15

4.5

41

Φ660×16~22

4

42

Φ660×23~30

3.5

43

Φ762×9.5~15

4.5

44

Φ762×16~28

4

45

Φ762×29~35

3.5

46

Φ813×9.5~15

4.5

47

Φ813×16~28

4

48

Φ813×29~40

3.5

49

Φ1016×9.5~15

4.5

50

Φ1016×16~28

4

51

Φ1016×29~50

3.5

52

Φ1219×9.5~15

4.5

53

Φ1219×16~28

4

54

Φ1219×29~50

3.5

55

Φ1422×9.5~15

4.5

56

Φ1422×16~28

4

57

Φ1422×29~50

3.5
58

Melt welded steel tubes by electricity in low temperature environment

Φ508×9.5~18

6500~12500

CA55

CB(60、65、70)

CC(60、65、70)

ASTM A671-2016

3.5

Steel groove protection covers are applied at both ends

59

Φ660×9.5~15

4.5

60

Φ660×16~22

4

61

Φ660×23~30

3.5

62

Φ762×9.5~15

4.5

63

Φ762×16~28

4

64

Φ762×29~35

3.5

65

Φ813×9.5~15

4.5

66

Φ813×16~28

4

67

Φ813×29~40

3.5

68

Φ1016×9.5~15

4.5

69

Φ1016×16~28

4

70

Φ1016×29~50

3.5

71

Φ1219×9.5~15

4.5

72

Φ1219×16~28

4

73

Φ1219×29~50

3.5

74

Φ1422×9.5~15

4.5

75

Φ1422×16~28

4

76

Φ1422×29~50

3.5
77

Structure with straight submerged arc welding pipe

Φ450×9.5~18

6500~12500

Q235-Q460series

GB/T30063-2013

3.5

Steel groove protection covers are applied at both ends

78

Φ508×9.5~18

3.5

79

Φ660×9.5~15

4.5

80

Φ660×16~22

4

81

Φ660×23~30

3.5

82

Φ762×9.5~15

4.5

83

Φ762×16~28

4

84

Φ762×29~35

3.5

85

Φ813×9.5~15

4.5

86

Φ813×16~28

4

87

Φ813×29~40

3.5

88

Φ1016×9.5~15

4.5

89

Φ1016×16~28

4

90

Φ1016×29~50

3.5

91

Φ1219×9.5~15

4.5

92

Φ1219×16~28

4

93

Φ1219×29~50

3.5

94

Φ1422×9.5~15

4.5

95

Φ1422×16~28

4

96

Φ1422×29~50

3.5